At Barry Parker's talk we'll have divisions of other succulents. Two that I'm including are the
Queen of the Night cactus
, which has grown reliably in a pot for me for thirty years, and was probably as old when I got it from another indoor gardener. I'm just bringing one cutting, but in the spring I can provide many more. I'm bringing the pot inside this weekend for the winter. It has extraordinary, gigantic blooms! For more details, click on the above link.
Another plant I'm contributing is from southwestern Morocco and the Canary Islands. It's variously called either
Caralluma
(the older name) or
Apteranthes burchardii.
There's a nice snippet about it
here
. Like the
Stapelia or Carrion Flower
that I am also contributing, this is one of what I call the stinking milkweeds. That is, it's a succulent in the milkweed family with fleshy stems, no leaves, and grows in very dry areas. Unlike the giant carrion flower, this has clusters of many minature flowers at the tips of the stem in early summer.
Caralluma europaea - Wikimedia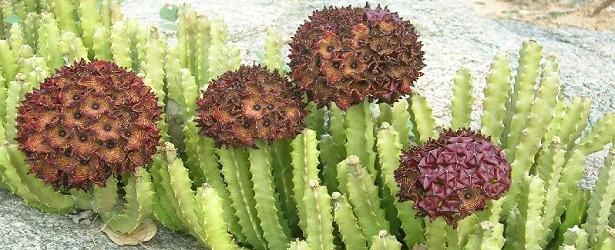 Caralluma fimbriata
If you ever want to amuse yourself by specializing in one kind of houseplant, the Carallumas are an option. A quick waltz through some of the species:
Caralluma acutangula - from Wikimedia